Saturday, April 20th Imåhen Taotao Tåno' had the pleasure of hosting the House of Chamorros. It was a chance to share the CHamoru culture with the public and visitors of Balboa Park. Surrounded by many other heritage displays in the House of Pacific Relations International Cottages, Guam hopes to soon have its own cottage to showcase its own cultural traditions.

In an informal but intimate setting, Imåhen Taotao Tåno' was able to showcase weaving skills, chanting and dancing. Gof bonita na ha'ani.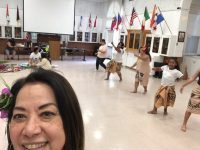 On Saturday, April 27th, Imåhen Taotao Tåno' returned for our 2nd time to perform at the 34th annual Linda Vista Multi-Cultural Fair and Parade. This years theme was Celebrating our Youth. A fitting theme for us – we had our youngest neni dancers there presenting the CHamoru culture; Isabelle, Deli and Berniyah. The event had a great turn out, if you didn't get to make it out, try to join us next year. We hope to present our CHamoru culture again.

Biba ha'ånen mafañågu-mu, Auntie Diane!
Si Dre